14 fun SEL activities to bring families together during COVID-19
Posted on January 15, 2021

Respectful Ways is pleased to offer this checklist of fun activities that children of all ages can do with the whole family.
These activities foster creativity, discussions, imagination and growth. Your family will get to know each other better — and learn a few interesting skills along the way!
The CDC is still discouraging large gatherings to reduce the spread of COVID-19. Children especially are feeling additional anxiety, missing the freedom to visit friends or travel. Unknowingly, they may act out feelings of anger, resentment and depression at home.
Parents can get ahead of these natural feelings before they rear themselves in the forms of defiance, aggression and self-isolation.
Respectful Ways is an innovative online youth program that teaches character building and social-emotional learning. RW offers a series of listen, play and learn activities to help families recognize and navigate through potential negative feelings, understand their origins, and help everyone cope with this unusual situation.
Bookmark or download an INTERACTIVE version of the Fun Activities checklist.
Words in blue point to fun online resources related to the activities.
Check out the list of links below the image.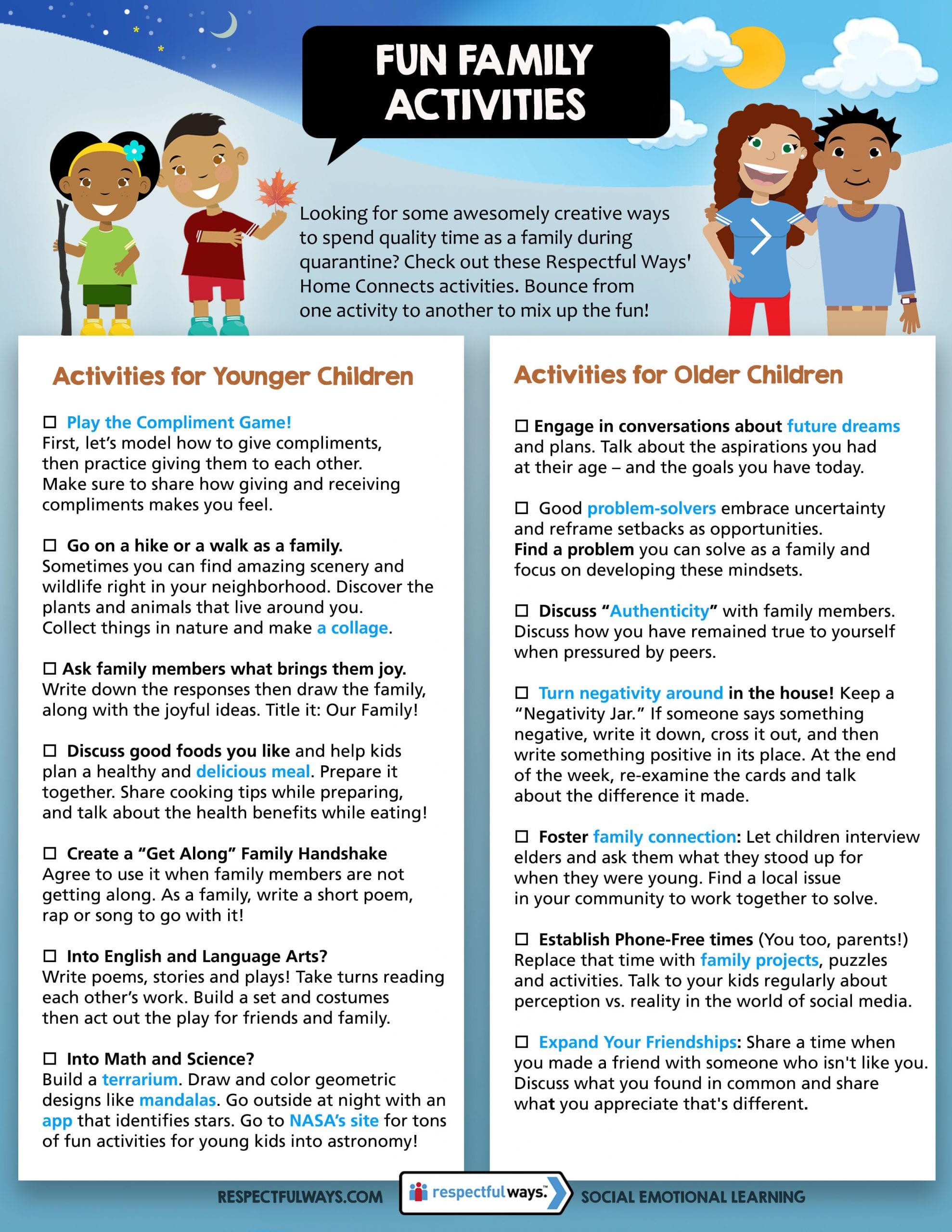 Related Links:
Younger Students
Play the Compliment Game: Video
A nature-based collage: Visual example
Make a delicious meal: 60 meal ideas under $10
Build a terrarium: Video
Draw a mandala: Video
Star and Night Sky identifier app: SkyView Free
Learn about Astronomy: NASA's website for students
Older Students
How to Use Goals and Dreams to Achieve Success
Problem Solving with Teenagers
Authenticity: Sharable meme
Positive and Negative words: Word Cloud
Family Projects: 15 At-Home Family Activities for Teens and Tweens
Expand friendships: Respecting Diversity Begins with Self-Respect
This entry was posted in Blogs, SEL News. Bookmark the permalink.