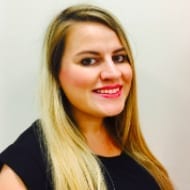 Katya Loseva
Respectful Ways Curriculum Writer:
Katya began her career in education teaching 6th and 7th grade ELA and Social Studies in turnaround schools in Chicago and Detroit. Throughout her time as a classroom teacher, curriculum writer, and administrator Katya has been focused on implementing blended learning best practice strategies in conjunction with real world applications that enhance student learning, engagement, and instruction which have been highlighted in publications such as EdSurge. Katya's passion for student centered learning is founded on the principals of teaching students to become problem solvers, innovators, and critical thinkers through project based learning that is focused on technological integration. Her commitment to blended learning led her to the position of Director of Personalized Learning for Matchbook Learning, which allowed her to share her blended learning experience on a national level.  
Katya holds a B.A in History and B.S in Secondary Education from Loyola University Chicago. Her dedication for working with inner city students led her to pursue a M.Ed. in Urban Education from National Louis University. In conjunction with her masters, she completed a yearlong selective residency with Academy of Urban School Leadership in Chicago, IL. She is also an AmeriCorps Alum and a strong advocate of civil service and action in the realm of education.
---
Bookmark the permalink.