Course Materials & Resources:
Respectful Play is the Way
---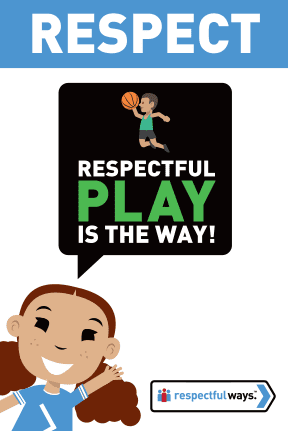 This is your step-by-step guide to teaching and navigating the course, including classroom suggestions and professional insights for the educator.
Activity Lesson Plans
Activity 1 Guide - Let's Chat
Activity 2 Guide - Time to Rhyme
Activity 3 Guide - Rules of Play
Activity 4 Guide - WE Play the Respectful Way
Activity 5 Guide - Be A Team
---
Activity Worksheets

Activity 1 - Let's Chat Questions:  Google Slide
Activity 3 - Rules of Play: Printout | Editable PDF | Google Slide

---
Awards & Certificates

Award printout | Personalize the Award: Download & Edit PDF | Google Slide
Promise Pledge printout | Google Slide
---
Fulfilled Standards
Fulfilled Common Core Standards
Fulfilled American School Counselor Assn. Standards (ASCA)
---
Surveys

Pre-Course Survey | Google Slide Survey
Mid-Course Survey | Google Slide Survey
Post-Course Survey | Google Slide Survey
---
Link to Student-Led Course for Individual Learning
Educators: See Course Overview Guide for instructions on using the remote (student-driven) courses.
Classroom (teacher-led) courses are available in the My Portal link.
Copy text below to share with students: 
https://respectfulways.com/student/RespectfulPlay
Students: This course is for your use only; sharing of the link is prohibited.
---
Expand your Knowledge: Further Reading

Fair Play for Children - RaisingChildren.net
Games with Rules - Play and Playground Encyclopedia
---
For Parents & Caregivers


Home Connects:  Show families what students are learning, and help keep  character development going after the bell rings! With suggested games, activities and fun Q&A, we all connect with Home Connects!  Send your students home with these printouts, or download and email to parents.
---
Educators, Counselors, Administrators and Parents deserve to be recognized for all they do for the betterment of their students. When colleagues or caregivers demonstrate Respectful Ways in the school, home or community, acknowledge their efforts with these certificates.