Why Respectful Ways SEL programs are better
We design a custom Social-Emotional Learning program tailored directly to your needs. (We create and bundle different courses to address your school or program's specific behavioral issues.)
We are a comprehensive curriculum and signage program that both establishes a positive school climate and reinforces the message with Respectful reminder signs.
Fulfills hundreds of state and College and Career Readiness Common Core Standards.
Courses are designed to give you the flexibility to teach when you want and how you want — on your school or program schedule.
Easy-to-follow lesson plans and activities. We've done the class prep for you!
Full on-boarding support and continued training for all faculty.
Online, interactive courses that create a unique experience for every classroom. 
Better student engagement. Our fun activities and lessons use pop culture trends. We speak their language!
If your school adopted PBIS, your challenge is finding good SEL curriculum. We are your solution to PBIS curriculum mandates! Our lesson plans integrate with your charts.
We hear you! Educator surveys are studied and used to make curriculum improvements. Your suggestions can be updated and uploaded immediately.
Age-appropriate courses for three grade levels — including high school!
Online support community including a student forum, parent and educator discussion groups and educational webinars for enhanced SEL training.
Parent involvement with every module, including "Respectful Ways Parent Page" PDFs detailing the lessons and SEL language students learn each week
Program overview
We help you teach Emotional Intelligence.
Respectful Ways provides character education through a combination of preproduced online lessons and classroom aids and activities for three age groups: PreK-2nd grade, 3rd-5th grade and 6th-12th grade. There are 18 modules for each age group, for a total of 54 unique courses, comprising a full year of curriculum. 

Through a variety of guided activities, students learn the core competencies of Social Emotional Learning: Compassion, Perseverance, Respect and Responsibility. We call this CPRR — helping you pump the heart into your students.
Each module comes with detailed, easy-to-follow lesson plans, research-based activities and classroom aids that make teaching a breeze.
We also provide Respectful Signage™ for your classroom and common areas to supplement the message and reinforce a positive school climate.  Other reinforcement tools include banners, pins and posters for the school, and special awards and rewards for the students.
Our character development program is perfect for schools, camps, after-school programs and community youth groups.
If your school has adopted PBIS (Positive Behavioral Intervention and Supports), Respectful Ways works hand-in-hand with your PBIS behavioral matrix.  
About the courses
There are 5 interactive activities per module, each designed to be taught in 30-minute sessions over a two-week period.
Since every child learns differently, our activities are varied to ensure that each individual student feels involved and engaged. The project-based learning includes discussion, crafts, games, group activities, performances, writing, personal reflection and more.
The first activity in every course is the "Lets Chat Conversation Cards" which breaks the ice and allows kids to explore their feelings on the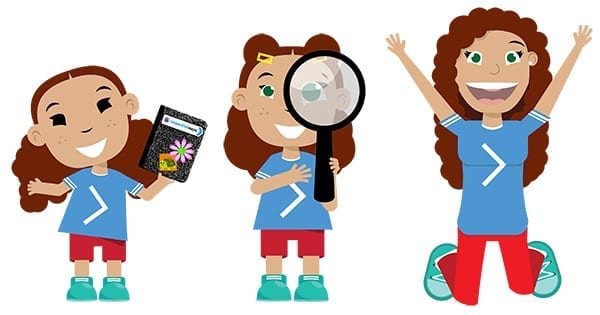 day's topic. Next up is the "Time to Rhyme" activity, where students recite, analyze and expound upon original poetry. The following 3 activities are research-based and unique to each course. Each reinforces the message in varied, creative ways to ensure that every student is engaged.
Each course is guided by the character Riley Ways, the students' ambassador who learns and grows with the students.
Let's discuss your students' needs to see if Respectful Ways is right for your school or youth group. Call Pam McNall at 678.464.0962.
Already have a Character Education program?
Respectfully, ours is better: We offer complete lesson plans for all ages, in a modern, online format that kids can relate to. Our turnkey lesson plans are more convenient and easier to teach. Plus, our online platform allows us to be more agile — we update content regularly, and even customize it to your school!
But if you already have a program in place, Respectful Ways courses can augment your existing SEL solution. You can access individual modules a la carte to directly address your school's specific behavioral issues. You can assemble your own curriculum, or simply purchase classroom signs and awards!
We encourage you to adopt our risk-free trial program so you can experience the advantages firsthand.
---
Compete Lesson Plans by Age Group
We've done the work for you. Our research suggests a lesson plan comprised of specific modules for these three specific age groups. There are 18 modules for each level, to be taught every two weeks over the 36-week school year. If you want additional ideas, see the full list of available modules.
---
Choose Your Own Curriculum
We offer 54 different subjects for character education. Explore the available modules under each of the Four Pillars. Each module was initially designed for the appropriate age group, but all modules can be adapted to other age groups, or customized to your school's needs.
Our research recommends rotating between the Four Pillars (Compassion, Perseverance, Respect, Responsibility) and that a new module be taught to students every two weeks.
For the 36-week school year, choose 18 Guides — 4 or 5 module lessons from each of the categories to build a well-rounded curriculum.  
---
Here's what you get.

Below is our Full Service Respectful Ways Program, but your program can be customized to fit your individual schools needs.
STUDENTS
270 Research-Based, Diverse Activities to Fully Explore the Lessons
Original Poems, Lyrics, Songs and "Promise" Pledges
Physical Respectful Signs for the Classrooms and Common Areas
3 Grade Tiers: Pre-K to 2nd, 3rd to 5th and 6th Grade +
4 Expertly Crafted Umbrella Curriculum Modules
54 Total Exploratory Guides
162 Exploratory "Let's Chat!" Questions to Spur Deeper Guide Understanding
SCHOOL WIDE
Customized After School Program
Customized Banners and Respectful Signage to establish a Positive School Culture
Parent Involvement with Every Module, Including "Respectful Ways Parent Page" PDFs Detailing the Lessons and SEL Language Students Learned
Parent Discussion Groups
School Rallies with Custom Banner
Customized Program Planning with CEO
School Counselor Support
Fundraising Opportunities With An Emphasis On Community Engagement
TEACHERS
An Online Portal hosting all your modules with Added Comprehensive Teaching Tools
Full On-Board Training by Trained RW Staff
Online Teacher Community and Educator Discussion Forum
Educational Webinars and Respectful Session Workshops
Integrative App Support
Access to CEO for Onsite Teacher Training and Support
Companion Teacher Guide Supplements 
Live and Recorded Webinars with Award Winning Educators, Best-Selling Authors and Child Psychologists