Custom Social-Emotional Learning Programs for Schools
Respectful Ways online curriculum is the only SEL program custom-made to address the specific behavioral issues your school or after-school program faces. We'll custom design an SEL program based on your needs for you at no charge. We offer a multitude of interactive, web-based courses teaching soft skills and emotional intelligence to three age groups, from PreK – 12th grade. Our easy-to-teach lesson plans build character through activities, discussion, music, art, reflection, and lots of classroom creativity! Our research-based programs fulfill hundreds of state and Common Core standards and integrate perfectly with your PBIS matrix.
We help you establish a Respectful culture using positive language and parent involvement! 
You be the judge: Try our risk-free, discount trial program.
We are HumanKIND curriculum to educate the human heart!
Here's why Respectful Ways is the SEL program you've been looking for.
SHOP PROGRAMS & MODULES
Complete SEL lesson plans for the entire school year or standalone 2-week modules.

Browse by Grade Level

SHOP CLASSROOM AIDS
Signage, Let's Chat Cards, banners, posters, pins and more!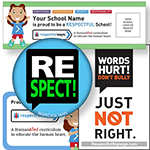 A word from founder Pam McNall
Welcome to the Respectful Ways family. This video introduces our innovative online curriculum and shows the tangible, real-world difference Social Emotional Learning programs can make in the lives of your students.
Curriculum designed just for you
Call 678-464-0962 or email Pam McNall at Pam@RespectfulWays.com. We'll help tailor a character education program specifically for your school or community.