Custom Social-Emotional Learning (SEL) Programs
Respectful Ways utilizes an easy-to-use online delivery system for counselors and educators to teach students social skills and emotional intelligence. Our curriculum is the only SEL program custom-made to address the specific behavioral issues your school or after-school program faces. We'll custom design a SEL program based on your needs, for no charge. All you need is Wi-Fi, a projector, smart board, or TV monitor.
Our modern, interactive courses teach soft skills, compassion, perseverance, respect and responsibility to three different age groups, from PreK – 12th grade. Our turnkey lesson plans build character through activities, original poetry, original hip hop music, art, reflection, and lots of classroom creativity! Our research-based programs fulfill hundreds of American School Counselor Assn (ASCA) standards and Common Core standards and integrate perfectly with your PBIS matrix.
P.D. Training Programs
All school staff need SEL PD training to function in today's classroom. Our workshops and webinar series help with continuing education and classroom management. Respectful Ways helps administrators and staff establish a positive school culture using parent engagement through our Home Connects program, translated in English and Spanish.
We are HumanKIND curriculum to educate the human heart!
Try our risk-free, discount trial program.
Here's why Respectful Ways is the SEL program you've been looking for.
SHOP PROGRAMS & MODULES
Complete SEL lesson plans for the entire school year or standalone 2-week modules.

Browse by Grade Level

SHOP CLASSROOM AIDS
Signage, Let's Chat Cards, banners, posters, pins and more!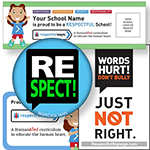 Curriculum designed just for you
Call 678-464-0962 or email Pam McNall at Pam@RespectfulWays.com. We'll help tailor a character education program specifically for your school or community.