Mental Health Action Day
Posted on May 18, 2021
May 20, 2021: MTV's First National Mental Health Action Day is driving people to take a first mental health action for themselves or others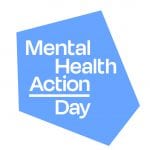 Respectful Ways Social-Emotional Learning Programs is proud to announce its partnership in the first-ever Mental Health Action Day to be held on Thursday, May 20th, participating with more than 1,000 leading brands, nonprofits, government agencies and cultural leaders.
"This purpose-driven and diverse group of cross-sector partners will shift our culture from awareness to action on mental health -- and the timing couldn't be more spot-on," said Erika Soto Lamb, Vice President of Social Impact Strategy at MTV Entertainment Group.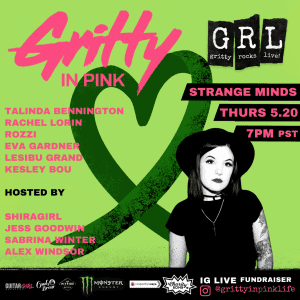 Join us on Instagram Live
Join us Thursday, May 20 for a musical awareness raising event powered by MTV and Charity Bomb:
Strange Minds on Gritty Rocks Live! 

An Instagram Livestream Fundraiser 
Tune in here at 7pm PT / 10pm ET:
https://www.instagram.com/grittyinpinklife/
Performances by:
@talinda320 @rachellorinmusic @thisisrozzi @evagardner @lesibugrand 
@kesleybou @shira_girl @jessthedrummer @idreamofsabrina 
7:10pmPT/10:10pmET -
Respectful Ways CEO and Founder Pam McNall will speak about coping with trauma after recent events such as COVID-19. Afterward, sit back and enjoy the performances.
Respectful Ways provides programming to alleviate stress on educators, school counselors, and students by teaching emotional intelligence, conflict resolution, respect, compassion, and more.
---
Everyday actions for mental health
In a recent Facebook post, Respectful Ways asked readers what tools and techniques they used to alleviate the stress, anxiety, and emotions brought on by current events. We heard smart suggestions such as:
Make time for your hobbies and favorite projects. Work on puzzles, plant a garden, or learn to play a musical instrument. - Pam

Listen to upbeat music that reminds you of positive memories in your life. - Jonathan

Alleviate stress with exercise, no matter how much. A simple 10-minute walk in your neighborhood will do wonders when feeling anxious or overwhelmed. - Jeff

Breathing exercises such as the "5-5-5 breathing technique". Breath in for 5 seconds through your nose, hold for 5 seconds, and then release your breath for 5 seconds. Repeat the process keeping mindful to maintain the pace. - Kate

Writing can alleviate worry and concern. When helping others through the written word, joy replaces anxiety, stress, etc. - Bruce

Do something creative. Whether it's creating a quick sketch or creating something delicious to eat. - Irma
Action looks different for everyone. Journaling is a great tool to help manage your mental and emotional health. Join us in filling out your own answers to this Mental Health activity. Go get the form, and take action!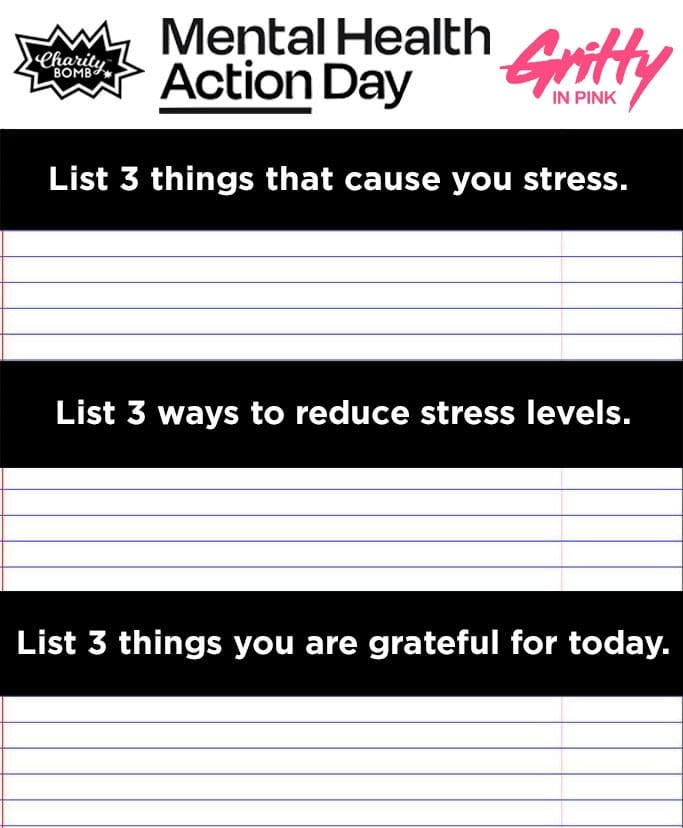 ---
Respectful Ways offers social-emotional learning tools and curriculum for Grades PreK-2, 3-5, and 6-12. Interactive, digital modules teach compassion, perseverance, respect and responsibility.
This entry was posted in Blogs, SEL News. Bookmark the permalink.